In Memoriam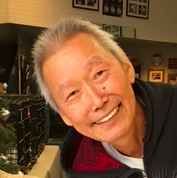 Chuzo Okuda

December 19, 2018


Obituary & Life History

Chuzo Okuda, totally deaf since age 4, passed away peacefully at age 70 on Wednesday, December 19, 2018, after a valiant battle with liver cancer for more than five and half years at his home in Sunol, CA. He was born on March 5, 1948, in Obihiro, Hokkaido, Japan. He came to Wisconsin School for the Deaf in 1966 to learn English and American Sign Language, then headed to Gallaudet University in Washington, D.C. to get degree in Mathematics within three years. Chuzo didn't hear any applause when he received his Ph.D. in Mathematics at Penn State University's summer graduation ceremonies at University Park, Pa. His thesis advisor said of her Japanese pupil "He's a remarkable student, and I don't know how he managed throughout his classroom courses without any single sign language interpreter." Additionally, she said "While working on a doctoral thesis, you're more on your own, and he worked exceptionally hard with tremendous powers of concentration. We communicated mostly through notes and on a blackboard." He was recognized as the first deaf Japanese student to obtain his Ph.D.
Chuzo taught Mathematics and Computer Science at Gallaudet University for six years before he decided to take a job as Software Engineer at the Lawrence Livermore National Laboratory, Livermore, CA until his retirement in 2013.
He was very independent and did not take things for granted. He was charming and warm, always made friends wherever he went, and his faith would always follow him
He was passionate about life, loved watching basketball games especially the Warriors, reading science books/biographies, travel, hiking, natures and talking with close and intensive friends. He was a generous man and a lover of animals (both domestic and wild).
He is survived by his wife Vira Confectioner Okuda; his sister Tomoko Okuda in Mountain View and his extended family in Japan. His family remained first in his heart, and he lives on in the hearts of his family and friends and all those who knew and loved him. Chuzo will always be remembered for his kindness, patience, generosity, and humor.
At Chuzo's request, there will be no funeral or memorial service. In lieu of flowers, please consider sending donations to the Lucky Dog Rescue Organization, P.O. Box 1257, Pleasanton, CA 94566 in his name.
Click "Return back to Memorials webpage"